(Bloomberg) Bitcoin fell for a third day, slipping below $8,000 after the U.S. Securities and Exchange Commission rejected a request to list an exchange-traded fund run by the Winklevoss twins.
The declines have halted Bitcoin's July rally, which had driven the world's biggest cryptocurrency up by more than 30 percent, after its plunge earlier this year, while buoying sentiment across the digital-coin market.
On Thursday, the U.S. turned down the Winklevoss ETF for a second time, saying the Cboe Global Markets Inc. platform that would have listed the Bitcoin fund failed to prove that the underlying market was "resistant to manipulation."
Bitcoin's drop on Friday also coincided with a signal of lost momentum that some traders consider to be bearish, the first such indication since the token's historic surge in December.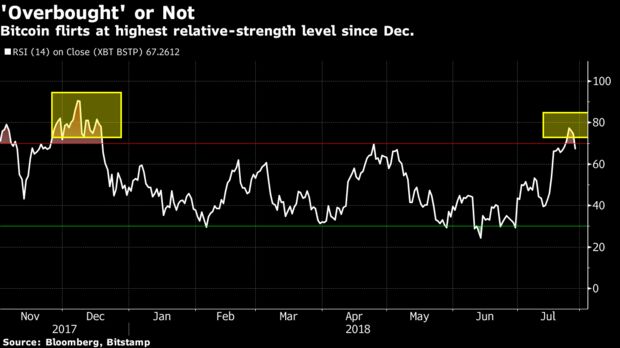 The token fell 3.5 percent to $7,852 Friday, and the momentum indicator known as the relative-strength index dropped back into its ordinary range, according to Bitstamp prices compiled by Bloomberg.
"Some would certainly argue this is bearish," said Craig Erlam, senior market analyst at online trading firm Oanda Corp. in London. "This 'overbought' condition becomes a bearish signal when a new high in price does not coincide with a new high in the RSI," for Bitcoin.
Bitcoin is down more than 40 percent this year, though up from a low on June 29.
The virtual currency had been rising recently in part on speculation that the U.S. Securities and Exchange Commission would sign off on an ETF. In June, Cboe Global Markets Inc. sought permission from the regulator to list a fund created by VanEck Associates Corp. and SolidX Partners Inc., sparking a flurry of lobbying from crypto fans.
However, several other rule changes relating to Bitcoin ETFs have been pending since at least January, casting uncertainty over when the SEC will make a call.
The regulator's decision to reject the Winklevoss listing is a "bad sign" for the other funds, Eric Balchunas, a senior analyst at Bloomberg Intelligence said. Digital-currency enthusiasts want an ETF to open up the market to mutual funds and other institutional investors that are restricted from trading the token.
"The Winklevoss brothers are high profile – and this is why the story has caught the eyes of the market in the short term," said Daire Ferguson, chief executive officer of Irish online currency platform AvaTrade Ltd. "For the long term, I doubt if it will deter these types of crypto investors or protagonists from their goal of regulatory approval.
Other large digital coins, from Ethereum to Ripple and Litecoin, all fell on Friday over 2 percent. Bitcoin slipped as much as 4.2 percent.
"These corrections are normal," said Erlam at Oanda. "I haven't seen enough to say it's topped yet."